Understanding your John Deere Engine Serial Number
Knowing your ESN is critical to making sure you are ordering the correct parts for your engine. The following guide will help you break down your engine's serial number into useful information.
Shop online for John Deere engine parts or call us at 888.687.6576 to speak to one of our sales representatives.
Serial Number Breakdown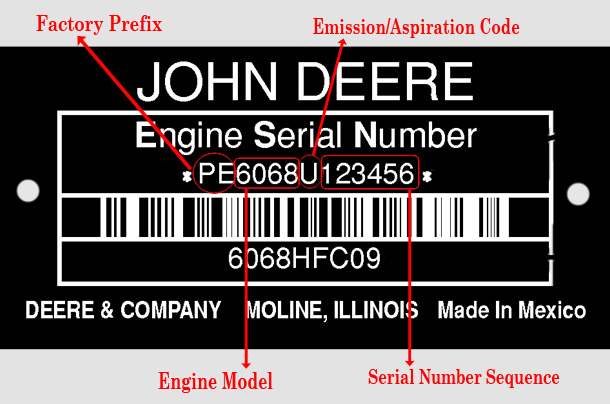 Emission Codes for Newer Engines
Emission Code
Emission Level
B
Non-Certified
C, E or F
Tier 1/Stage I
G, J or K
Tier 2/Stage II
L, M, N or P
Tier 3/Stage III A
R
Interim Tier 4/Stage III B
U
Final Tier 4/Stage IV
Aspiration Codes for Older Engines
Aspiration Code
Aspiration Type
A
Turbocharged, air to coolant aftercooled
D
Naturally aspirated
H
Turbocharged, air to air aftercooled
S
Turbocharged, air to sea water aftercooled
T
Turbocharged
Is your engine a 300 Series or a Powertech?
First generation 300 Series engines use the same model numbers as the newer Powertech; their technology is extremely different so very few parts are interchangeable. When checking your ESN, here is how you would know which type of engine you have:
Prefix
300 Series
Powertech
TO
ESN up to 699999
ESN 700000 and up
CD
ESN up to 499999
ESN 500000 and up
PE
ESN 001000 and up